Free eBooks for Hugo Voters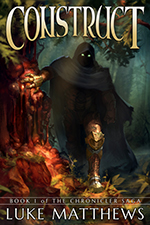 The nominations for this year's Hugo Awards are now in full swing, and Construct is eligible. Being a self-published author, however, it falls to me to make sure the book gets into the hands of those with the ability to nominate it for the award.
Do you have Hugo voting rights? In order to nominate and vote, you need a supporting membership in the World Science Fiction Convention (WorldCon) for 2014, 2015, or 2016. Hugo nominations are open until 11:59 PDT on Tuesday, March 10th 2015. For more details on Hugo nominations, follow this link.
If you are a voting member, I want to send you a copy of my debut fantasy novel Construct, which is eligible in the Best Novel category. Contact me at luke[at]chroniclersaga[dot]com, and I can send you a digital copy in either ePub or Mobi format.